Urinary Incontinence, an Embarrassing and Restrictive Medical Condition, with Few Available Solutions.
The weakening of pelvic floor muscles and/or the urethral sphincter's impairment can provoke urine leaks due to an increase in abdominal pressure from actions such as coughing, sneezing or laughing. Affecting both men and women, this condition results in a serious loss of independence and reduced quality of life.

Mother to two adult children and soon a grandmother, C., 62 years old,
leaks urine. She has lived with this inconvenience ever since giving birth, as her pelvic floor rehabilitation gave limited results. With age, her incontinence has become worse. Today, it's impossible to go to the theatre, for example, without constantly visiting the toilets. When she has a cold and coughs, her clothing always becomes wet. The same happens when she laughs. She lives with the constant fear that people will see or smell her leaks. And she's worried about the future and ageing, as she has learned that it will only get worse: nappies, smells – it's all horrible. A system does exist, but after learning how it works, C. feels discouraged. Walking around with little reservoirs in her stomach is out of the question. As is having to work a pump, implanted in her vaginal lip, by hand.

Following a prostate operation several years ago, 80-year-old X. has suffered urine leaks that have recently become worse. He no longer sees anyone and has to wear nappies 24 hours a day. To help, his urologist suggested the only solution that exists, a hydraulic sphincter that requires long surgery and placing fluid-filled reservoirs in his stomach. Since the operation, he can welcome his grandchildren again and go away on holiday, but he is constantly reminded of the system in his stomach. The reservoirs are uncomfortable and he has to work a pump located in his scrotum to urinate. It's complicated and humiliating. He therefore hasn't really gone back to a normal life.
Like C. and X., over 420 million people in the world, men and (especially) women, suffer from urinary incontinence, including a quarter for whom the problem is moderate to severe. Not only older people are affected. These patients present severe urinary incontinence where leaks occur when abdominal pressure increases. This can be when coughing, practicing sports, sneezing or laughing. Without a medical device, patients' lives are reduced, or they prevent themselves from taking part in certain activities, afraid of what others will think. Worst of all, no satisfying solution has been created in over 20 years.
To relieve these patients afflicted with a severe form, the only solution is an artificial sphincter that replaces the malfunctioning natural sphincter. But most patients won't have this because they don't go to consult, out of shame, because the problem seems 'trivial', or because they don't have enough information about this pathology. Even then, if they're diagnosed, medicine today can offer only one hydraulic device that is anything but recent and that works in a limited manner. Long and fairly difficult to implant, especially for women, the device is invasive and daily use is complex.

Artus
Urinary incontinence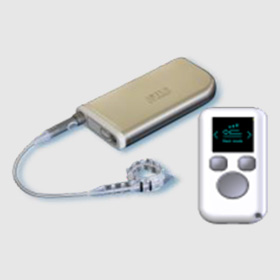 The device is in clinical development